Filtration
Plastic Molding for Micron-Rated Filtration Applications
Many micron-rated filtration products include plastic molded components that have complex geometries and shapes.
These molded parts are used in a wide variety of filtration applications, such as oil, water and air.
Materials & Processes
Completed filter assemblies usually include a plastic structural component, the filtration media and, in some cases, an additional gasket or fastener. All of these components can be fabricated within the molding process or implemented through plastic welding. The end result is a finished product with assured quality at an affordable cost.
Special Considerations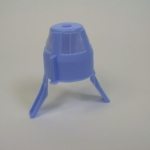 Our scientific plastic molding and advanced manufacturing processes allow us to create filtration products in any shape or configuration – from simple, traditional components like mesh screens to highly complex devices like custom plastic filters.
Thriving in the plastic molding business for nearly 50 years, we have the experience and certified in-house Master Molders to take on simple and highly complex projects – whether it's building on an existing mold design concept or providing a unique solution based on specific performance requirements.
We provide a comprehensive range of plastic molding services, including mold design assistance, modeling, prototyping, manufacturing, and testing. We even offer value-added services that can shorten your supply chain, like scientific molding, plastic welding, product assembly and thermoform packaging.
How to Get the Best Results
Partner with PMC early in the development cycle, and take advantage of our expertise in optimizing your filter design to maximize filtration and product performance. It's this proactive, solution-driven process that helps your plastic filter achieve optimal results.
Our experience in product development and mold design assistance helps you establish your application requirements, translating your design into a highly effective and affordable filtration product that's best suited for its intended application.
Through it all, a dedicated project management team ensures you receive the efficiency and personal service you need to reduce your product development costs and accelerate your time-to-market.
From concept to finished product, we provide a host of value-added plastic molding services that translate into a superior product, a competitive price, and a low-variability product that meets spec in every respect.